Where best to open a new shop? How much revenue can we generate in this location? How much customer potential does a region have? Are there any perfect neighbours near my new location? How does congestion impact my potential revenue?
These are all important questions, because for an omnichannel retailer finding the right location is everything. A wrong decision can have far-reaching consequences. But now you can reduce this risk to a minimum with RetailSonar's statistically accurate models. No more subjective and loose conjecturing. What's more, you can simulate scenarios in the Retail Sonar platform to shave time off the decision-making process.
The retail market is a fast-evolving market. Retailers must be able to respond very quickly to changing environmental factors and a changing market. RetailSonar facilitates this type of flexibility by regularly adding new parameters to your RetailSonar environment, so you always make strategic decisions based on the most accurate predictive data.
Visualise all the data on a map
How many people and households are there in a trade area? How is this population composed? What is the annual combined expenditure of these people?
Where do my customers live and how much market share do I have in these neighbourhoods? How far are my customers prepared to travel?
Where are my blind spots, the regions with untapped market share?
Visualise all your competitors on a map, including the surface area of their retail space.
Visualise structural congestion by road segment. What's more, the Retail platform factors in this information when determining trade areas.
Which perfect neighbours generate interesting footfall?
Smartly planning your network
Estimating the turnover of a potential new shop location?
How large should the new shop be, how much surface area should it have? How much revenue will an additional m2 generate?
To which extent does this new shop cannibalise my existing network? Isn't this shop too close to existing shops?
What is the net effect on the revenue of my entire network when I open a new shop?
What is the financial risk if my competitor opens a shop in a nearby vacant retail space?
How much revenue does a perfect neighbour contribute?
What are the critical factors for success of my shops? How important are a car park, visibility and access?
Which blind spots have enough potential to open another shop and are therefore a hotspot?
format_quote
" We can decide in just five minutes whether a location is worth it, creating more margin for making strategic decisions"

Nancy Dierick, Proximus
Where do my online customers live? What is their socio-demographic profile?
Which online revenue do I generate from customers who live near my shops and what is the online revenue generated by customers who live farther away?
Which type of customer prefers in-store pick-up and which customers prefer home delivery?
If I open a new, physical shop, how will this impact my online shop?
How much revenue can I recover through online sales if I close a shop?
How are my shops performing?
Is the shop capitalising on its full potential? Is the shop's performance good or bad, if we take its surroundings into account?
Should a shop that is already generating a high turnover be able to do even better? Especially if we take the high potential of the trade area and the low competitive pressure in the area into account?
What caused the bad performance? Is it the area? Or should we place the blame with the shop?
Possible environmental causes: do some neighbourhoods have a substandard performance? Should we target them with more marketing? Or has their potential decreased? Or the competition increased? Is it worth moving the shop? Or should we consider closing the shop? How many customers can we recover through nearby shops?
Or is the shop itself the cause? Is the size of its car park insufficient? Could the shop do with some refurbishing? Or is the management to blame?
How do I reach just as many customers with my flyers and still save 10% on my budget?
How can I reach even more customers with the same budget?
Should I flyer even more? Where and where not? What is the ROI of my flyer, by neighbourhood?
Where should I prefer addressed mail?
How much municipal tax do I pay in a given region?
How many mailboxes do I reach and how many have a "no advertising" sticker?
How do I spread the cost evenly between the various shops and internal services?
Smartly planning and managing your franchise network
Do I still need my trade areas and are they up to date?
How can I contribute to an efficient collection of pre-contractual information for new franchisees?
How can I correctly divide the cost of national marketing campaigns between franchisees?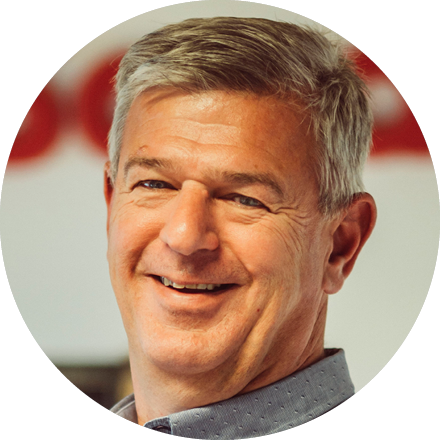 Alain Van der hoeven
Sales Manager
Will you soon be optimising your location strategy? ✔ Customers give us a satisfaction score of 9.2

How we solved their questions